Details
Project KICS R40 Locking Lugs Nuts M12xP1.25 P1.5 Racing Composite Gear Wheels Rims Titanium Black Japan Full Set
*** Made in Japan ***
*** 100% Brand New High Quality ***
*** High Grade Metal - Titanium Black Finishing ***
*** Rare see in US, UK and Europe ***
FREE Tracking Number Provide that other sellers will not provide
*** M12x1.5 or M12x1.25 Pitch Models ***
Full Set 16 Pieces Lug Nuts, 4 Lock nuts, 1 Key and a Wrench Adapters



Project Kics feature a unique seven-sided, heptagonal lug nut is that each lug consist of 2 pieces, where the top of the lugs spin freely from the tapered centering ring. This ensures a much tighter and precise hold than traditional lug nuts. It also minimizes the chances of scratching your wheels. Made of lightweight composite materials, these open ended lugs fit on both standard studs as well as extended studs. The entire set weighs just under 2 lbs! Highly recommended for both street and track enthusiasts.

Project KICS R40 Locking Lugs Nuts M12xP1.25 P1.5 Racing Composite Gear Wheels Rims Titanium Black Japan Full Set
- Super light-weight thin-wall construction using strong light-weight OEM quality materials.
- Oversized and taper seat to ensure best contact.
- External drive by popular 17mm hex for easier installation.
- Full stud engagement and can accommodate long racing studs.
- Reliable and stronger than aluminum racing nuts.
- Japan patented (No. 1192260) and USA patent applied.
- Lug body produced by Cold-Forged SCM-435 material.
- Open ended lug nuts are perfect for those running extended studs.
Attached rotating taper-seat made with A7075-T6 aluminum and ultra-hard ultimate finish.

PITCH: M12 X P1.5 or M12 X P1.25
(Remark: There 2 types Pitches, M12 X P1.25 or M12 X P1.5. Once order placed and payment completed, email us
Enquiry@autowheelcapled.com
IMMEDIATELY which type you prefer)

Fitment:
M12 X P1.25 Model:
Nissan, Subaru, Suzuki, Infiniti

M12 X P1.5 Model:
ACURA, HONDA, TOYOTA, SCION, LEXUS, MAZDA, MITSUBISHI, HYUNDAI, KIA, BUICK, CADILLAC, CHEVROLET, CHRYSLER, DODGE, EAGLE, FORD, AND OTHER CAR MAKES

100% Waterproof and Weather Resistance
Easy on Installation / No Drilling Required
Perfect for replace your wheel with Smart New Look


***** Shipping & Delivery ***** 
1) World Wide International Air-Mail Delivery 
2) FREE Tracking Number will be provided for status tracking - Fast & Accurate 
3) Delivery Days: ~ 7-14 days 


***** Return & Refund Policy ***** 
We will be liable for any loses or damages that may occur during delivery (provided that all information listed in the order form is correct, especially shipping address, recipient name and product name). 
Any claims in respect to the products can be returned for exchange within the three days after receiving the goods. 
Please read clearly the item description. 
Please be sure that the correspondence shipping address, name, contact phone number and order information of the product are accurate and clear.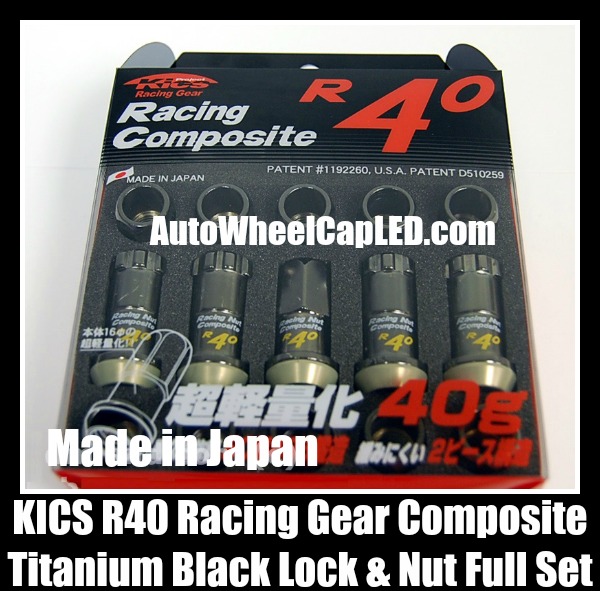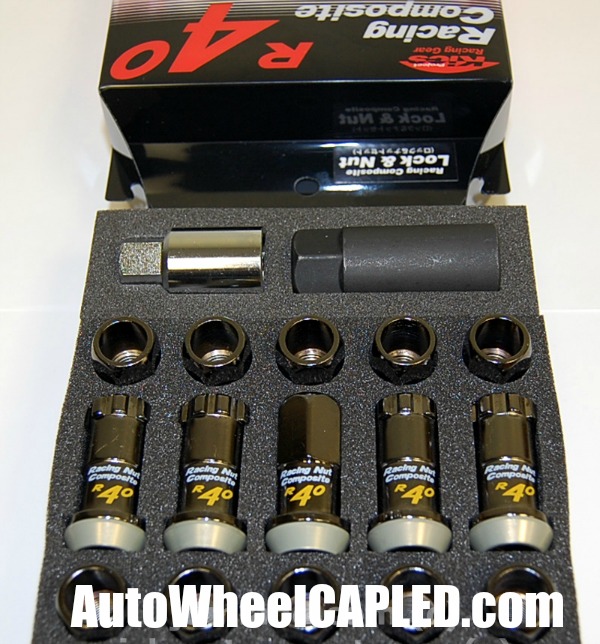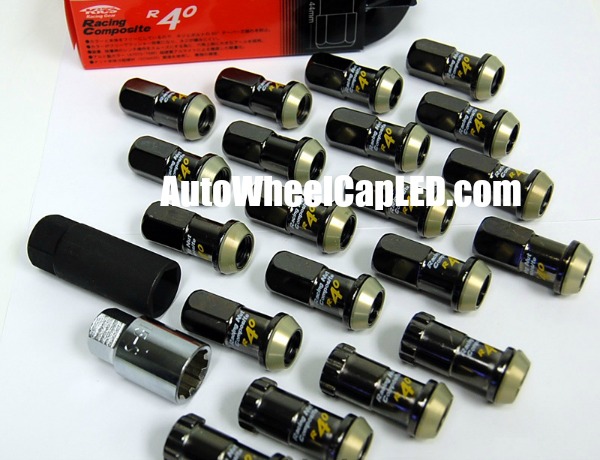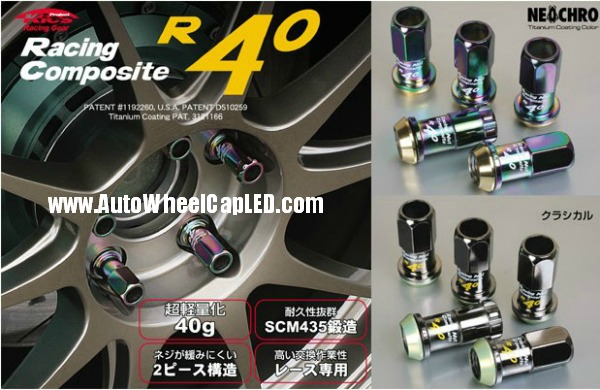 Additional Information
| | |
| --- | --- |
| Product Name | Project KICS R40 Locking Lugs Nuts M12xP1.25 P1.5 Racing Composite Gear Wheels Rims Titanium Black Japan Full Set |
| Condition | 100% BRAND NEW |
| Brand | KICS |
| Materials | High Grade Metal |
| Color | Titanium Black Finishing |
| Size | SIZE OF LUG NUT: WIDTH 22mm / LENGTH 44mm / DIAMETER OF KEY 24mm |
| Package | Full Set with 16 x Lug Nuts, 4 x Locks and 1 x Wrench Adapters |